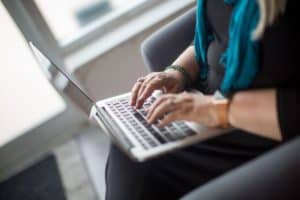 As entrepreneurs, we constantly have to prove to our audience and customers that we are experts in our fields. This includes providing them valuable information, over and over again in a way that is educational, engaging, and entertaining. And each week, many of us have the struggle thinking of what to write about next, staring at a blank computer screen waiting for the inspiration to flow. The struggle is real!
By now you know that content is king. Everything from the marketing pieces you create, to the emails you send, to the interactions you have with clients counts, and the content you produce can make or break your business. You may have the best product out there, but if you are not communicating to your clients why they should be contacting you, then you should consider yourself a 007 secret agent, because you are not visible and top of mind to your prospective clients. This is why the content you create is so critical to send out the right messaging.
We all have the best intentions to create amazing pieces of content for our clients to consume, but life happens and we get sidetracked or overwhelmed with everything else we have going on in our business and our lives. This is why we wanted to share with you 3 time saving tips on how to create amazing content without losing your mind:
1. Create an Editorial Calendar
Starting from square one and a blank page can be overwhelming and daunting. It is challenging to get the ball rolling without getting a sense to where you are going. This is where an editorial calendar can be so useful for your content creation. When you have a plan and an idea for different types of emails or blogs, it is much easier to sit down and create content that engages and inspires your audience.
To start your editorial calendar, first write down all the different topics and themes you want to educate your audience about. This gives you an overall view of the type of messaging you want to give to your prospective clients over the next weeks, months, and years.
Once you are done with this brainstorm, select 5-8 of these themes that are central to your brand and your business. From there you can brainstorm topics for each of these themes that are relevant and your clients will find interesting and informative. After determining each of these topics, you can then begin to schedule them in your calendar for when you plan to release this information. Creating an editorial calendar will allow you to feel more organized and less overwhelmed with what type of information you plan to share with your clients.
2. Use Templates to Save Time
A template can be a huge time saver with creating amazing content that you can deliver over and over again to potential customers. Once a template is written it can not only be duplicated, but also personalized depending on who the client is. A template serves as a frame and doesn't have to be complex. Or you can create one that is more detailed, with placeholder text for supporting data or bullet lists. Whatever type of template you use will help you save time. You can use templates for many pieces of your content, including blogs, email marketing, and client communication.
We rely on templates for our email communications with prospects and clients. With 17hatswe have created standard email responses for potential clients inquiring about our photography services. We also have created informational guides to help our clients prepare for sessions and to educate them about our process. These templates are very detailed and informational and by having them pre-created, we don't have to re-write them each time we talk to a new client. We also can edit them by adding personal information to them to connect even better with potential customers and current clients.
Templates allow us to streamline our business by being more efficient and faster with our response time, therefore improving our overall customer service experience.
3. Know Your Niche
This is key to deliver the best content for your audience. You should always be learning new things about your niche and sharing your new knowledge with your audience. Keeping up to date with new trends and information will set you apart from others as an expert in you field.
Read articles, listen to podcasts, watch informational videos, attend networking groups and conferences, and talk with other professionals in your niche so you can become even more of an information resource for your customers. And when it is time to create new content, you will have so much information to pull from and you will be able to give your audience a new fresh perspective on what you have learned.
Creating new and interesting pieces of content for your clients does not have to be overwhelming, stressful, or cause you to go insane. Using these time saving tips will help you become more organized with the information you deliver and set you apart in your market as the go to person and expert in your field.
Getting organized, using tools like templates, and always learning new information are time saving tips that you can start implementing today to get on top in your game as an entrepreneur.