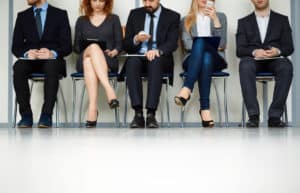 Competition. It is one of those aspects of business that for some of us make the hairs on the back of our neck stand up. It may not be one of your favorite things to think about when running your photography business. While others may thrive on competition and love the thought of "beating" their competitors in business.
In every marketplace there is competition. It is the one thing you cannot escape. Unless you have the ability to come up with a brand new product that no one has ever seen or heard of, competition is one of those aspects that you will have to face when running your business.
When it comes to competition, it is important to take a step back and not get flustered that there are other people in your marketplace trying to do the same thing you are, while trying to target the same prospects you are. It is ok to not have everyone in your marketplace. You wouldn't be able to serve the entire market to the best of your ability if you had every single person. What is important is to focus on the small percentage that you need that will make your business profitable. Maybe that's only 25 clients or 50 clients. That's it. When you can grasp this concept you start to look at the market and competition with an entirely different perspective.
As humans, we are always comparing ourselves to others. It is human nature. We compare our looks, our lifestyles, how much money we make, the vacations we take..everything. When you are stuck comparing yourself to your competitors in business, you take your eyes off of your real focus..your clients. You take away from servicing the ones that have chosen to do business with you and take away from their own experience. This puts you in a position of not being fully invested in the clients that you do serve, as well as not as genuine and in tune as you could be with those individuals.
When you focus in on the clients that you serve and not pay attention to your competitors, something really wonderful happens. You start to run your business from a standpoint of abundance, not scarcity. You begin to realize that there really is so much opportunity for everyone, you included, to succeed in business. And when that occurs, you then don't stress out or worry about what your competitors are doing, because you are so focused on you, your work, and how you can truly help your clients.
Ironically, when you shift your attitude about competition, your competitors can become one of your biggest sources for referrals. What you do well is most likely what they don't do. Once you understand this, you will eliminate your competition.
One of the things you can do to get an even more clear understanding of your strengths and weaknesses as a business is a SWOT analysis. A SWOT analysis is a strategic planning tool that helps a business owner identify his or her own strengths and weaknesses, as well as any opportunities and threats that may exist. It is done as part of your marketing plan and can uncover a lot of unanswered questions about your business.
There are a series of questions you can go through with each of the sections of the SWOT analysis. As you go through these questions, focus on what is relevant and current for your photography business right now.
Strengths
For this section, think about the aspects about you and your photography business that will help you achieve your goals. Questions to consider are:
-What do you do well?
-What expertise or special knowledge do you have?
-What experience do you have?
-What do you do better than your competitors?
-Where are you the most profitable in your business?
Weaknesses
For this section, think about the aspects about you and your photography business that could hurt you with achieving your goals. Questions to consider are:
-In what areas do you need to improve or need help with?
-What parts of your business are not profitable?
-What resources are you lacking?
-Where do you need further experience or education?
-What costs you time or money?
Opportunities
For this section, think about external conditions that will help you achieve your goals. Questions to consider are:
-How can you do more for your existing clients?
-Are there new target audiences that you would like to reach?
-What are your business goals that you are working towards?
-What kind of technology can you use to enhance your business?
-What types of products and services can provide even more opportunity for your business?
Threats
For this section, think about external conditions that could hurt your business's performance. Questions to consider are:
-What are the strengths of your biggest competitors?
-What are your competitors doing that you are not?
-What are the obstacles that you are facing?
-What are the trends in the photography industry?
By doing a thorough SWOT Analysis, you will have a better understanding of your strengths, weaknesses, opportunities, and threats that are related to your business and will be able to take steps towards improving your marketing and client experience to stand out from your competitors. Competition will become something that you no longer cringe at, but can learn from and embrace.
We also talk more about Competition in the Marketplace in 17hats Motivation Monday series. Check out the video below!