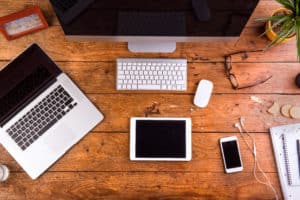 Whether you are reading this at the beginning of the year, mid year, or at the end, you may be at a point in your business where you are feeling stagnant or even burned out. We have all been there.
It all comes back to attracting the right clients to your photography business, and for many of us, this is where we find ourselves stuck.
How do you know it's time to upgrade your business? When you have a waiting list full of clients; when prices in your field have left you down at the bottom level; when you have a strong, active list and presence – or when you are finally making steady income and sales?
It all depends on your customers and clientele.
The key is to still focus on who your ideal client is and how you can best help them: Not on what the latest trend is in pricing and upgrading.
What do they want? What is the best way to deliver it to them?
That being said:
That is the only real "rule" you have to follow. Upgrading your website, slapping the word "Professional" all over it and selling the same old stuff is NOT a high-powered sales strategy: It's a recipe for disaster.
Never, ever jump on a bandwagon, and copy-cat your competitors solely so you can raise your prices too. 
If you want to raise your prices, don't just show your customers that YOU have upgraded to the next level: Show them that you can help them get to the next level too and provide them a service and unique experience that sets you apart from your competitors.
Here are six small tweaks you can do to make sure you are set up to take your business to a whole new level!
1. Make sure you include your personal time and attention
What can you give clients that no one else can provide? Yourself, of course. Your personal attention; your photography services; your answers to their questions.
Consider ideas like setting up a one on one consultation meeting before a session to go over wardrobe or location.
Or offer value by answering top questions your clients have on a Facebook live
Or create a Facebook Group where you actually make a point of interacting every day.
No matter what format you put it in, personal access to you is going to be the biggest added-value incentive to you and your business.
2. Concentrate on your media presence
Let others know that the media and your community have recognized you. For that to happen, however, first you have to create a top-quality media kit.
Next, actively seek to guest post an article in a community publication or be featured at a local level at a networking or chamber event. Submit your work to be published and featured online. Then you can discreetly put their name or logo on your home page.
Don't be intimidated. If you are visible, pay attention to submission guidelines, contact the right person and do this on a regular, consistent basis, sooner or later you will land ONE opportunity with a major authority site … and the rest will prove to be much easier.
3. Be an A-level guest
Hand in hand with building a media presence goes becoming an A-level guest. This involves putting yourself out there as an expert, and as "the photographer" to go to.
If public speaking is hard for you, the best way to learn: Fast-track it. Start out in a small, safe environment—a sympathetic small networking group, or a local branch of Toastmasters, where you can practice making speeches in front of people with like-minded peers, in a sympathetic environment. Or develop a signature speech.
Learning and following a simple formula and being proactive about getting out there and finding guest spots is the real secret to making this particular strategy a success.
4. Give your website a high-end makeover 
Websites are subject to fashions, the same as anything else in modern-day life. If your ancient website is working for you (and it's mobile-optimized) that's great – but another strategy for raising your prices and going pro is to level up your website.
Book a professional photo shoot (incorporating a variety of outfits and accessories in your brand colors, as well as great locations.) Yes, you as the photographer need branding photos!
See what others are doing, but don't copy them exactly!  Or hire a web designer who specializes in handling brands.
5. Find the right partners
You can easily lever the expertise of others by partnering up with an influencer in a relevant field. Perhaps there is a wedding planner or venue that you can connect with? Or a human resources agency? Provide them with value and most of all, show them exactly why working together with them can lead to a win-win situation.
Start by approaching influencers who already know you: There are so many people already in your network that would probably be great to work with!
6. Streamline your systems
If things haven't been working smoothly for you, perhaps this is a time to take a look at your systems. Is there a way to streamline things so you can work smarter and not harder? How is your follow-up, are you on top of things or always dropping the ball. When you leave things to your mind alone, you are bound to drop the ball!
Having a system in place is key to helping you up level your business and really make things pro! We use 17hats for our workflows, emails, and action plans, so we don't even have to think about what to do next. Perhaps it is time for you to take a look at what systems you have in place so you can stop dropping the ball and start being more in your zone of genus working with your clients!
Remember, if you want to go pro, always think in terms of taking it to new levels. This can be scary: You can wake up at night sweating over the extra cash or time  you're investing and wondering if you'll make back your investments. Such fears are normal, when you challenge not only your community, but yourself. 
Step up and try it, however. Because you too are allowed to go for your big dream and live the lifestyle you really want … all while you help your community and clients to achieve theirs.
And that's a pretty sweet win-win for all.